2024 SGS Annual Meeting & Conference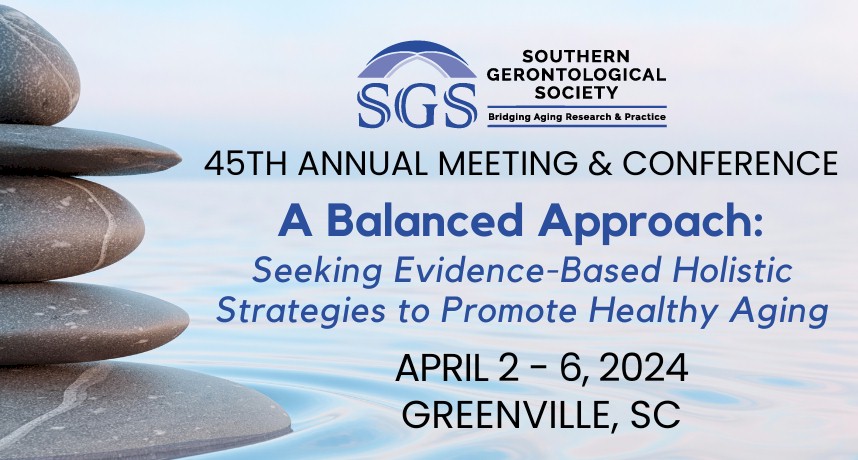 The Southern Gerontological Society's 45th Annual Meeting and Conference
A Balanced Approach: Seeking Evidence-Based Holistic Strategies to Promote Healthy Aging
Hyatt Regency
Greenville, SC
April 2 through April 6, 2024
Call for Abstracts, Registration, and Sponsorship Information Coming Soon!
An Invitation from the SGS President
The theme of the 45th Annual Meeting & Conference is A Balanced Approach: Seeking Evidence-Based Holistic Strategies to Promote Healthy Aging. Breaking down the title, I will start with evidence-based strategies. Evidence-based strategies are programs, practices, or activities that have been evaluated and the findings demonstrate improved outcomes.
Why holistic strategies? The Oxford Dictionary describes holistic as being characterized by the belief that the parts of something are interconnected and can be explained only by reference to the whole. In medicine, holistic strategies are characterized by the treatment of the whole person, considering mental and social factors, rather than just the symptoms of an illness.
What is healthy aging? Healthy aging is very individualistic and is highly influenced by the degree to which basic needs are met. For instance, ensuring proper nutrition and a safe environment in which to live impacts a person's ability to age healthfully. Similarly, addressing stress levels, depressive symptoms, and social isolation also impacts a person's health trajectory.
A critique of evidence-based practice is that it does not consider individual needs. This may be addressed by using a holistic approach to provide evidence-based practice. Evaluation, modification, and refinement can only enhance evidenced-based strategies that support healthy aging across the lifespan.
From a researcher's perspective, the theme highlights the development and ongoing study and improvement of interventions that support healthy aging. From a practitioner's perspective, the theme highlights interventions that have evidence of success. From an individual's perspective, the menu of evidence-based practices is just that, a menu that you can pick and choose from to implement in your own life to foster healthier aging.
We hope this balanced approach to attaining healthy aging practices stimulates SGS attendees to think both broadly - on a professional level - and locally about our own unique aging journeys.
Sincerely,
Bert Waters, Ph.D., FSGS
President, SGS (2022-2024)
---