2024 SGS Annual Meeting & Conference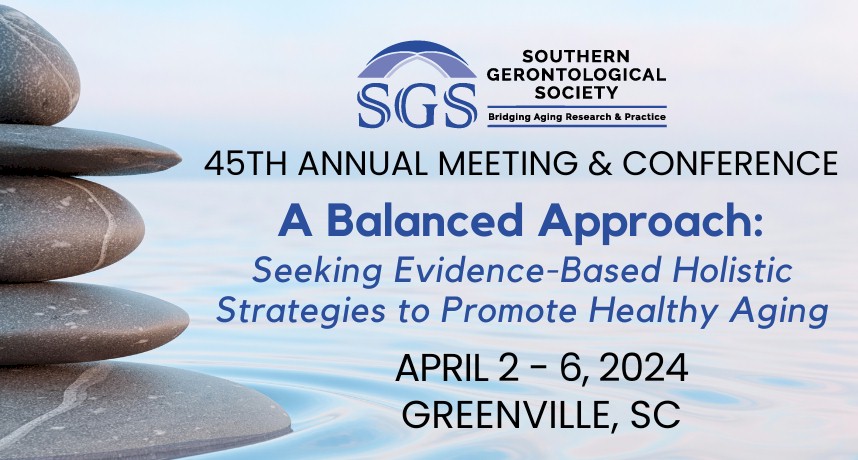 The Southern Gerontological Society's 45th Annual Meeting and Conference
A Balanced Approach: Seeking Evidence-Based Holistic Strategies to Promote Healthy Aging
Hyatt Regency
Greenville, SC
April 2 through April 6, 2024
The Southern Gerontological Society (SGS), is a network of the South's most respected gerontology professionals, representing 14 southern states and the District of Columbia. The mission of SGS is to provide the bridge between research and practice, translating and applying knowledge in the field of aging. The SGS Annual Meeting and Conference focuses on advances in gerontological research and applied practice, bringing together those engaged in the field of aging to attend and/or present their latest research, programs, interventions, and workshops. Anyone with an interest in aging is encouraged to attend.
An Invitation from the SGS President
The theme of the 45th Annual Meeting & Conference is A Balanced Approach: Seeking Evidence-Based Holistic Strategies to Promote Healthy Aging. Breaking down the title, I will start with evidence-based strategies. Evidence-based strategies are programs, practices, or activities that have been evaluated and the findings demonstrate improved outcomes.
Why holistic strategies? The Oxford Dictionary describes holistic as being characterized by the belief that the parts of something are interconnected and can be explained only by reference to the whole. In medicine, holistic strategies are characterized by the treatment of the whole person, considering mental and social factors, rather than just the symptoms of an illness.
What is healthy aging? Healthy aging is very individualistic and is highly influenced by the degree to which basic needs are met. For instance, ensuring proper nutrition and a safe environment in which to live impacts a person's ability to age healthfully. Similarly, addressing stress levels, depressive symptoms, and social isolation also impacts a person's health trajectory.
A critique of evidence-based practice is that it does not consider individual needs. This may be addressed by using a holistic approach to provide evidence-based practice. Evaluation, modification, and refinement can only enhance evidenced-based strategies that support healthy aging across the lifespan.
From a researcher's perspective, the theme highlights the development and ongoing study and improvement of interventions that support healthy aging. From a practitioner's perspective, the theme highlights interventions that have evidence of success. From an individual's perspective, the menu of evidence-based practices is just that, a menu that you can pick and choose from to implement in your own life to foster healthier aging.
We hope this balanced approach to attaining healthy aging practices stimulates SGS attendees to think both broadly - on a professional level - and locally about our own unique aging journeys.
Sincerely,
Bert Waters, Ph.D., FSGS
President, SGS (2022-2024)
---
Conference Domains
Domain 1: Age-related Health and Wellness - America's persistent attention on disease-focused treatments often misses key aspects of quality of life and wellness that includes physical, mental and spiritual health, meaningful activity, prevention, social engagement, happiness and enjoyment/pleasure. This track welcomes submissions that address research, best practices, policy agendas/commentaries and local examples of community programming are welcomed on topics such as, but not exclusively limited to, chronic illness, oral health, social isolation and loneliness, sleep, mental health, and drug misuse/dependence.
Domain 2: Environment & Location: The Power of Place - As regional and state-based organizations focused on aging and older adults, we need to consider the influence of place, specifically region and the legacy of history and social institutions on older adults in our communities. Submissions that discuss the social history, shared community, diverse culture(s) or identity of the region with particular attention to the meaning of place (including housing and transportation) are encouraged.
Domain 3: Diversity Topics in Aging Communities - Inequality across many social groups (e.g., race, ethnicity, class, sex, sexuality, immigrant status) and the intersection of these differences have implications for older adults in almost all aspects of their lives. As the United States, as well as other countries attempt to cope with the challenges of a rapidly growing aging population, individuals and their communities are faced with inadequate resources. Submissions that address research, best practices, policy agendas/commentaries and local examples of community resilience are encouraged.
Domain 4: Caregiving, Care Support, and Care Partnerships - Over a lifetime, everyone will need care, and most will provide it to others. his domain welcomes all submissions related or pertaining to topics which may include, but are not limited to, caregiving (formal or informal), caregiver self-care, awareness and prevention of elder abuse, neglect, and/or exploitation, veteran's care, respite services, intergenerational partnerships, therapeutic arts, tele-everything (medical, legal, smart-homes), and other creative programming.
Domain 5: Gerontological Education and Professional Development - As the population ages globally, there is a pressing need to maintain persistent education to all aging professionals beginning with a focus on students to help them to adequately prepare for a multiplicity of careers that would either benefit from gerontological expertise or directly address the needs and preferences of older adults. Sessions in this track will offer insight into pedagogical strategies that bring gerontology to the classroom, serve to bridge gerontology students from education to practice, and cater to all professionals wanting to accelerate or enhance their professional skill sets. Sessions that actively demonstrate teaching and learning strategies, marketing, and branding, interviewing skills, enhancing social media presence and general best practices in gerontological education are encouraged.
Domain 6: Advocacy For Or By Older Adults - Organizations play an important role in uncovering evidence, developing policy agendas and advocating for and with older adults. Local, state, national and international entities/units also impact advocacy. Submissions that discuss policy and advocacy agendas, financial planning, elder law and/or end-of-life planning, state aging plans, or grassroots efforts are encouraged.
---