2022 SGS Annual Meeting & Conference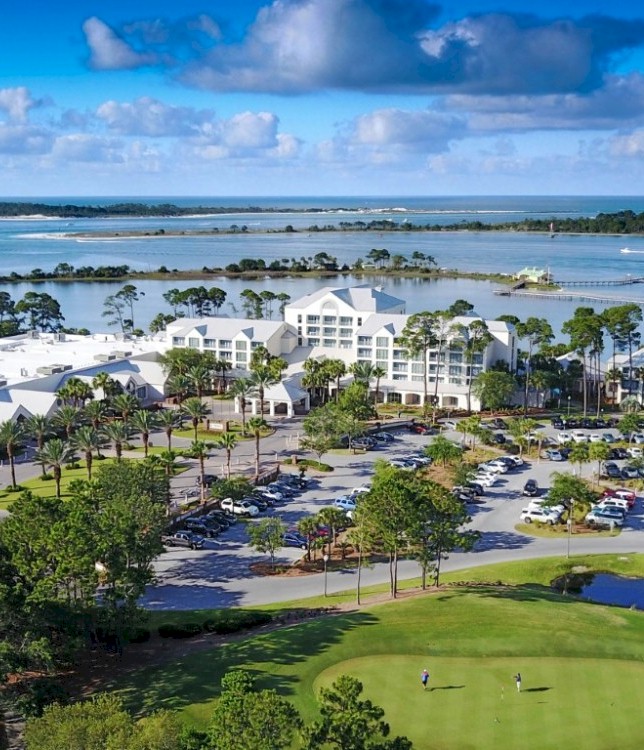 The Southern Gerontological Society's 43rd Annual Meeting and Conference
SHERATON
Panama City Beach
Golf & Spa Resort
April 5 through April 9, 2022
---
SGS Questions?
Call Amanda James ~ 866-920-4660
Email Amanda James
2022 Keynote Speaker
Dr. Shannon Mathews, Ph.D.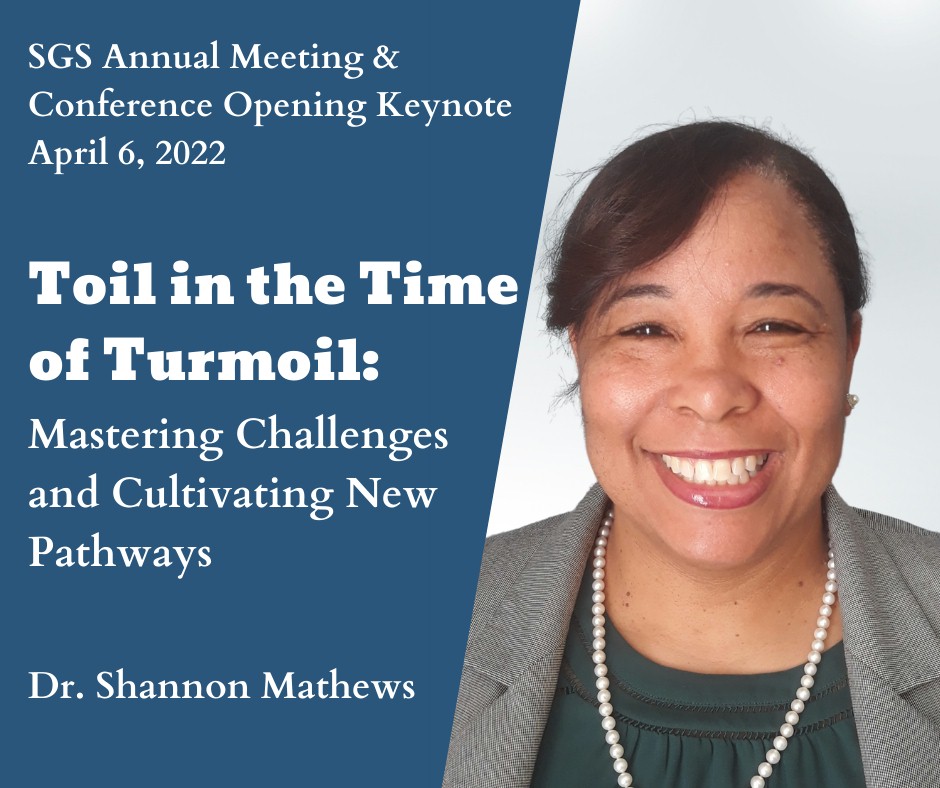 Dr. Shannon Mathews, Ph.D., is a tested and successful leader in higher education. She has held leadership positions across numerous ranks in the academy and has experience in both public and private institutions. Her training and background as an anthropologist and gerontologist have provided a distinct frame for her success as a leader; and have been vital during efforts to navigate the pandemic. Her keynote discussion will deliver a comprehensive overview of some the challenges faced by gerontologists, educators, clinicians, and service providers across a variety of sectors charged with serving an aging population. She will highlight opportunities to not only survive this difficult time but to cultivate new approaches to the services delivered to a diverse aging population.
---
2022 Meeting Updates
2022 Annual Meeting and Conference registration is open.
Early Bird rates will be in effect through March 1st, 2022.
SGS Membership is required to register...
Not a member? Join Now!
---
SGS is happy to invite Late Breaker Poster Submissions.
Deadline: February 11, 2022 at 11:59 PM EST
Notification of Acceptance by February 18, 2022.
---
2022 Sponsorship Opportunities are now available.
20% off exhibits and advertising costs for SGS organizational members.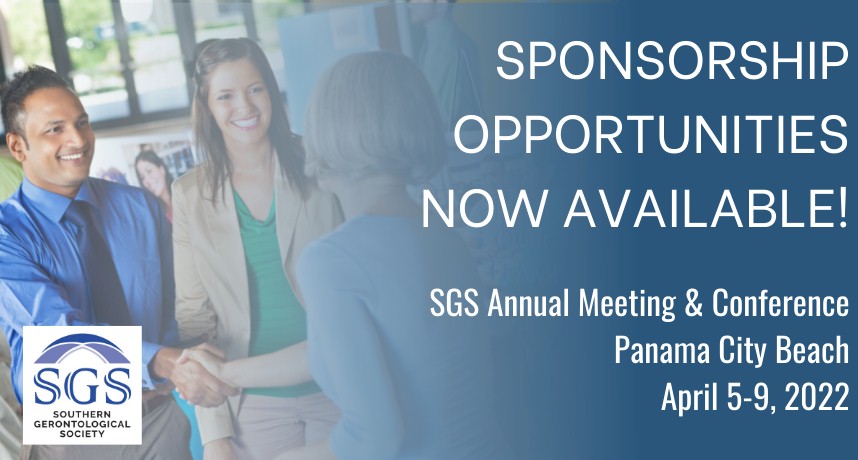 ---
2022 Airfare Discounts.
SGS has negotiated airfare discounts with the Delta and American Airlines
Additional airlines may be added. These discounts are only available to conference attendees and cannot be published on our website.
Please email Amanda James at admin@southerngerontologicalsociety.org if you would like information on how to access these discounts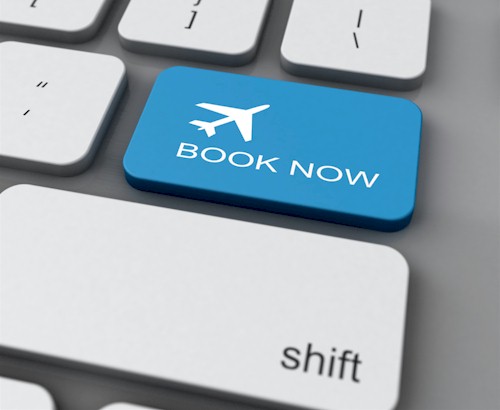 Annual Conference Attendance & COVID-19
SGS remains committed to providing an in-person Annual Meeting & Conference in 2022. We will continue to monitor COVID-19 conditions and will be adding safety protocols as needed to ensure the safety and comfort of our attendees.
At this time, SGS will require proof of vaccination or proof or a negative test result from a COVID-19 test obtained within three days of arrival at the conference venue to attend.
Additional safety protocols such as indoor mask requirements, social distancing, and others are being considered and this page will be updated as protocols are decided. If conditions prevent SGS from being able to provide a safe conference experience and the conference is canceled, all attendees, sponsors, and exhibitors will be given options which will include a full refund.
Thank You to Our Sponsors
Silver Sponsor & Living With Dementia Sponsor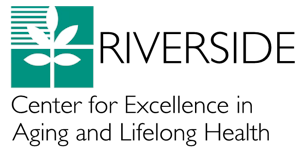 Riverside Health Systems
Known as the Riverside Center for Excellence in Aging and Lifelong Health, CEALH continues its nonprofit work to fulfill its mission to improve the quality of life for older adults by integrating academic, clinical and health services research with the capabilities of local service providers to develop and implement innovative community-based and healthcare system initiatives that can be replicated and sustained by Riverside Health System.
CEALH places special focus on applied research for operationally sustainable programming to meet the needs of the most vulnerable members of our community, a critical element of population health management. The organization's vision is to lead the development of model communities that will promote the well-being and independence of older adults through translational research and widespread application. CEALH continues to focus on identifying areas of need within the populations they serve, developing pilot programs and working with the health system and community partners to implement the pilots on a broad scale. CEALH's ability to bring community partners together with the common goal of improving healthcare for older adults is critical as the baby-boom age wave continues to grow and accompanying public policy is put in place to improve the nation's approach to healthcare.
---
Bronze Sponsor

Master of Health Administration at Appalachian State
The Master of Health Administration online program at Appalachian State University connects busy professionals with the knowledge and skills to lead health care organizations - without having to relocate.
This degree embodies Appalachian's mission by preparing students to lead purposeful lives as engaged health care executives who are eager to acquire and create knowledge, promote a spirit of inclusion, communicate effectively and think critically. As a graduate, you will be prepared to advance your management career in a variety of health care organizations, including, but not limited to, hospitals, long-term care, urgent care, research facilities, mental health, bio-tech organizations and medical health equipment companies.
In addition to a strong core curriculum in general health administration, students have two possible areas of focus: health care leadership and health information systems.
App State Online: Change your future.
---