SGS Endowment Fund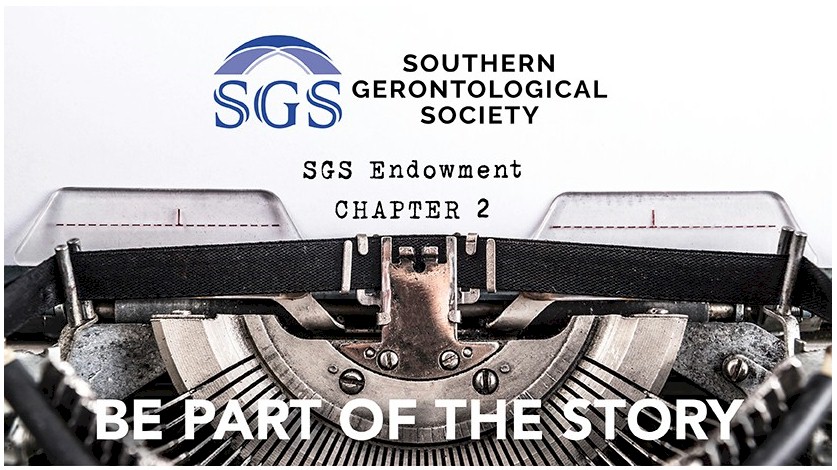 Purpose of the SGS Endowment Fund
An endowment fund is a perpetual fund from which only the earnings (or income) are distributed. Income generated from the endowment fund may be used to help finance projects and initiatives that support the mission of SGS, but for which funding might not otherwise be available. This fund is separate from the SGS operating budget which is used for general operating expenses.
---
SGS Endowment Fund Award
The Southern Gerontological Society invites you to submit a proposal for our inaugural SGS Endowment Fund Award.
We invite written proposals that:
Address one or more issues related to aging in the South;
Propose projects that can be successfully completed within one year;
Have regional geographic impact and/or the prospect of such impact;
Request support up to $3,000; and
Can be realistically accomplished within the budget.
Please read the Request for Proposals for information on eligibility, requirements, and the application process.
Important Dates:
February 8, 2023 – Deadline for proposals
February 28, 2023 – Awardees notified
March 1, 2023 – February 28, 2024 – Grant Period
---
SGS Endowment Fund Goal
The goal of the SGS Endowment Campaign Chapter 2 is to raise $30,000.
While the endowment will gladly accept deferred gifts such as trusts and charitable gift annuities, the primary objective of this initial endowment campaign will be to secure monetary gifts to help establish the endowment and enable it to support special initiatives consistent with the mission of SGS.
Endowment Progress - $4,779 of $30,000 - 16%
---
SGS Endowment Fund Campaign Giving Levels
Donor Level & Amount
$10.00
$25.00
$50.00
$100.00
or Select Your Own Amount
The SGS Endowment fund is an investment in the future well-being of older adults in the southern region and beyond.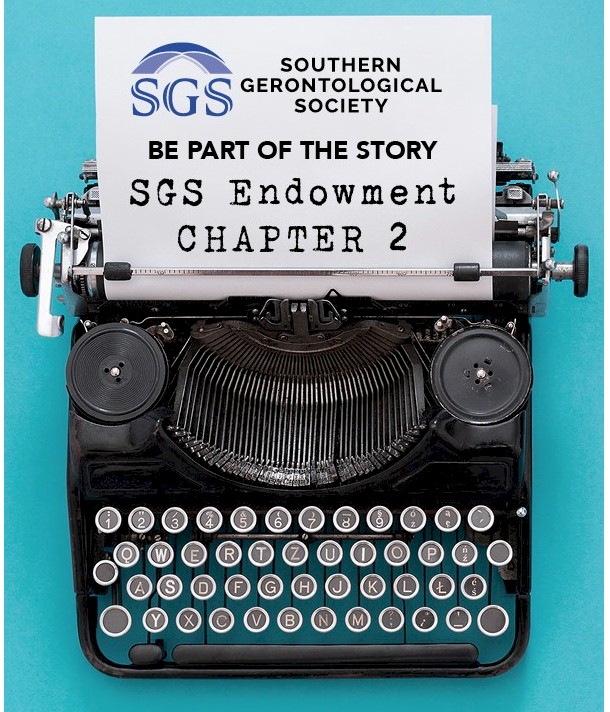 ---
Named Gift Opportunities
Donations of $2,500 and over will have the option of being recognized with a named gift or recognizing person(s) or organization of their choosing (subject to final approval by the SGS Endowment Committee and the SGS Board of Directors).
Other gift opportunities may include:
Gifts In Memory or In Honor of family, friends, associates or special occasions.
Gifts of cash, stocks, bonds, real estate or personal property may be acceptable and are subject to final approval by endowment committee.
A bequest in a will
As a beneficiary in a life insurance policy, 401K or IRA
---
Donor Recognition
All donors who donate at least $50 to the Endowment Campaign will receive an invitation to a special reception during the Annual Meeting & Conference and will be recognized on the SGS website.
In addition, we offer donors who wish to remain anonymous the option of being listed as "Anonymous" and/or recording their donation in someone else's name.
---
All donations are tax deductible. There may be tax advantages for your donations. You are encouraged to seek professional tax and legal advice in structuring a plan that is best suited to your individual situation and goals.
Please select the amount you would like to donate and then scroll down to enter your personal information and credit card info.
---