2023 SGS Annual Meeting & Conference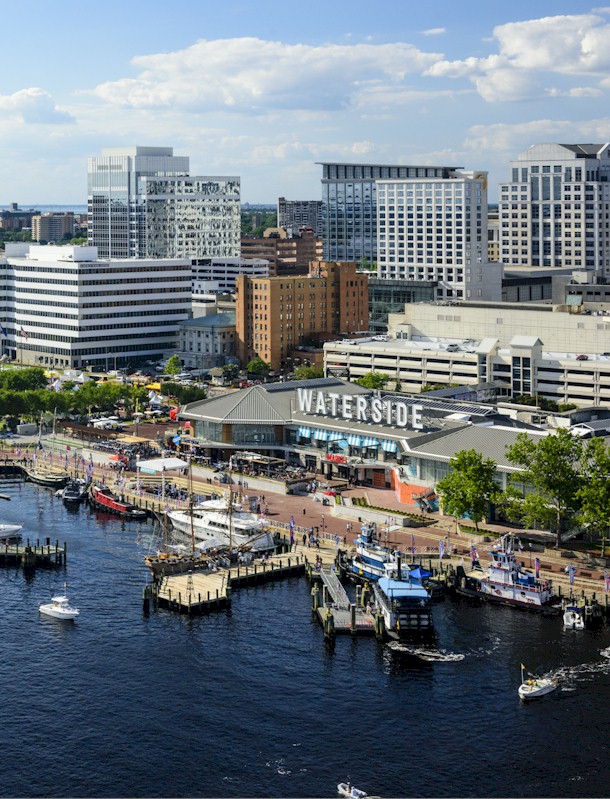 The Southern Gerontological Society's 44th Annual Meeting and Conference
Advancing Effective Solutions: The Interplay of Social Determinants of Health and Health Disparities
HILTON
Norfolk the Main
Norfolk, VA
April 11 through April 15, 2023
From The SGS President
The Southern Gerontological Society's 44th annual regional aging conference will be held at the beautiful Norfolk The Main in Downtown Norfolk, Virginia. Hilton at The Main sits along the waterfront and is a close walk to cultural attractions, shopping, and dining. Our theme is Advancing Effective Solutions: The Interplay of Social Determinants of Health and Health Disparities.
As president of the Southern Gerontological Society, I would like to extend an invitation to you to attend and contribute to our meeting being held on April 11-15, 2023.
This beautiful setting offers all sorts of history, fun, and family-friendly activities. We encourage you to bring your family members and extend your stay before or after the conference to get the most out of the location. Downtown Norfolk offers cruises and boat rides, museums and public art, and independent, chef-inspired restaurants. It is an easily walkable city with trails and a light rail. The Selden Market is a one-of-a-kind experience with a rotating lineup of inspired shops.
The focus of our 44th Annual Meeting and Conference, the Interplay of Social Determinants of Health and Health Disparities, takes a life-course perspective approach to address a vast range of factors that influence health disparities. While genetics and timely and quality health care play a part in health outcomes, social, environmental, and behavioral factors play a larger role in determining health outcomes. The vision statement for Healthy People 2030 is one in which all people can achieve their full potential for health and well-being across the lifespan. Overarching goals include eliminating health disparities and attaining health literacy, two lofty goals directly impacted by the distribution of wealth, power, and resources. There is a history of social exclusion in the U.S. where marginalized groups experience differential health outcomes and access to health.
This year, we are focusing on interventions targeting priority populations for health disparities research that can lead to practice change, improve population health, and lead to better health equity. Solid social networks are protective for health; they provide a system of concrete resources that are helpful for health care utilization. By addressing the fundamental "causes of the causes" of good and ill health, the Social Determinants of Health approach has the potential to remove some of the fundamental barriers that impact health and address some of the most intractable health issues that are closely associated with dimensions of inequity.
Similar to previous years, we are organizing the conference into six domains. We organized themes to drive session creation in ways that ensure that researchers, practitioners, policy advocates, and older adult consumers create linkages in terms of networks, sharing ideas to forward the agenda of reducing inequalities and improving older adult quality of life. The DOMAINS are (1) Age-related Health and Wellness, (2) Environment & Location: The Power of Place, (3) Diversity Topics in Aging Communities, (4) Caregiving, Care Support, and Care Partnerships, (5) Gerontological Education and Professional Development, and (6) Advocacy for or by Older Adults.
We hope you will join us and share your important work at the Norfolk 2023 meeting. We welcome everyone who wants to network with and learn from others in the aging field who are facing similar issues, and who want to serve a diverse population of older adults.
Sincerely,
Bert Waters, Ph.D., FSGS
President, SGS (2022-2024)
---
Top Reasons To Attend in 2023
NETWORKING: An opportunity to interact with professionals from all fields of aging.
PROGRAMMING: Attendees select from numerous continuing education and professional development presentations, networking opportunities, and other activities.
VALUE: Each full conference day includes a minimum of two meals, plus snacks, making the conference affordable to attend.
VENUE: Hilton Norfolk The Main is Downtown Norfolk's newest upscale hotel, dining, and meeting destination. Walk to cultural attractions, trendy shopping and dining by the Elizabeth River.
LOCATION: Norfolk is a city on the water, but never watered down. Built on character, by characters, Norfolk is a melting pot of people, cultures, and ideas.
---
2023 SGS Sponsors