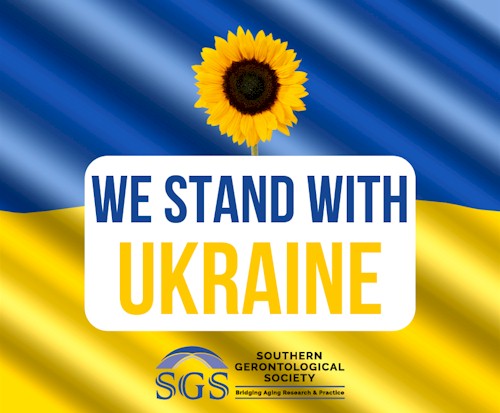 Currently, some two million older Ukrainians are reportedly losing access to food, medicine, pensions, transportation, and other necessities, putting them at risk for social isolation and violence. While our membership is drawn from the Southern United States, we embrace a global perspective in our efforts to enhance the lives of all older adults and to inform aging policies and practices worldwide. We are an inclusive membership association of diverse individuals and organizations with interests in gerontology. Members seek to improve the quality of life for older adults through education, research, and practice. In support of this mission, we stand united in concern about and condemnation of the Russian leadership's unconscionable invasion of Ukraine, its indiscriminate slaughter of Ukrainian citizens, and the chaos inflicted upon Ukrainian refugees. We applaud the governments and citizens of other nations who have provided support for and hope to these refugees. We stand united as well in our support of all Ukrainian people throughout the world.
HelpAge International is the secretariat to a global network of organizations promoting the right of all older people to lead dignified, healthy, and secure lives. You can learn more about how this crisis is affecting older adults in Ukraine and how this organization is addressing these challenges here.
We encourage you to investigate opportunities to assist older adults in this crisis through HelpAge International or other organizations.
SGS Executive Committee
SGS Council of Presidents
SGS Public Policy & Advocacy Committee
---
From The SGS President
Over the past eighteen (18) plus months, we have been more socially isolated than at any other time in our lives. The isolation has resulted in anxiety, depression, increased use of opioids and a severe state of loneliness for many, particularly residents in long-term facilities and congregate housing settings.
According to the Pew Research Center (February, 2021), a significant number of challenges are on the horizon as a result of the need to re-evaluate negative changes and make adaptations for a future driven by technology. Additionally, the reliance or dependence on technology and a virtual environment will likely persist well into the future, at the local, state, regional, national, as well as international/global levels. Enhancements of broadband capabilities will be the driving force in education, employment, as well as social settings. Subsequently, the technology environment will influence positive changes in health care and other areas.
The COVID-19 Pandemic presented challenges to gerontology professionals predicated on significant changes that are quite evident in the areas of education, research and practice. However, the major questions are: a) Where are we now? b) Where do we go from here? Currently, we are functioning in the New Normal. However, lessons learned from the pandemic opened the door for opportunities to Master the Challenges of Aging with Dignity and Style. Opportunities have been provided for us to rise above many difficulties and strive for renewed hope.
Aging with dignity and style involves facing challenges; using lemons to make lemonade and turning stumbling blocks into stepping stones. It also involves facing situations and fixing them, adjusting sails to navigate through strong winds, and finding peace and contentment in the midst of change and challenges. These vivid descriptions are the epitome of Mastering the Challenges of Aging with Dignity and Style.
We must reach beyond the ordinary to achieve the extraordinary. Success in life is not reliant on our income, rather how we overcome. Approaching life's challenges one day at a time provides the opportunity for enjoyment of each moment, of every day. Positive energy must be exerted to avoid dwelling on the past, clouding today and blocking our vision of tomorrow.
Aging can be as beautiful as the fall season with the changing of the leaves. Fall has its purpose, and so does aging. The wisdom we accumulate as we mature is vital in guiding and directing younger generations. The resolve that we garner from our lived experiences, while Mastering the Challenges of Aging with Dignity and Style should be packaged and imparted to others!
Althea Taylor Jones, PhD
Certified Gerontologist
President, SGS
Retired Professor/Gerontology Program Administrator
---
SGS Supports Research
SGS is happy to support our members and friends who are conducting human subjects' research. Would it help you to promote your study and recruit participants via the SGS newsletter, social media outlets, and website? If so, here is your opportunity.
For SGS members, there will not be a fee. Newsletter and website placement fee for not-for-profit organizations that are not SGS members is $50.00; undergraduate and graduate students' listings are free, but must have faculty advisor that is a SGS member.
Your research description is featured in 2 successive issues of our newsletter, the Southern Gerontologist; researcher should identify length of time to promote the research opportunity; listings/postings are limited to approx. 250 words, excluding title and link(s).
Your research description remains on our website for 6 months; provide IRB approved document/flyer.
SGS can invoice you for the fee. Please contact SGS Executive Director, Lee Ann Ferguson at 866-920-4660 or via email at admin@southerngerontologicalsociety.com for instructions on submitting your posting.
Endorsement of studies by the Southern Gerontological Society is neither expressed nor implied.
---
Survey Results
Executive Summary of SGS Research & Service Priorities
Recommendations from the 2018 inaugural Southern Gerontological Society (SGS) priorities survey report led to substantive outputs including the development of conference tracks, a peer-reviewed publication and subsequent presentations, a webinar series, and two new standing committees (Gerontological Education and Advocacy). The survey subcommittee also recommended that SGS conduct a survey of priorities with respect to aging in the South at least every three years. To honor that recommendation, the second SGS priorities survey (Survey 2.0) was sent to members and stakeholders in April and May of 2021. The SGS Priorities Survey 2.0 Executive Summary explains the methodology and content of the survey, describes respondent demographics, presents the findings, includes a discussion of evolving SGS priorities, and offers recommendations resulting from the project. Additional information can be found in the SGS Priorities Survey 2.0 Full Report.
---
Join SGS Now
We'd like to offer you the opportunity to become a member of one of the most respected groups of gerontology professionals in the Southern region – The Southern Gerontological Society.
SGS members make a difference by continually providing professionals in the aging network with access to the latest research and a forum for discussing important practical issues relating to older adults in our area.
As part of your membership benefits, you will receive two excellent publications, the Journal of Applied Gerontology, and the Southern Gerontologist.
---