Rosalynn Carter
GRITS Hall of Fame Member
2016 Inductee
Rosalynn Carter is President of the Board of Directors for the Rosalynn Carter Institute for Caregiving (RCI), which was established in in her honor on the campus of her alma mater, Georgia Southwestern State University in Americus, Georgia.
The RCI's mission is rooted in the belief of supporting and enhancing the lives of elders begins with providing their caregivers with effective support structures to promote caregiver health, skills, and resilience.
Mrs. Carter is an inspirational and unwavering champion of eldercare through her advocacy for mental health and caregiving of elders throughout the State of Georgia, the Southeastern United States, and internationally.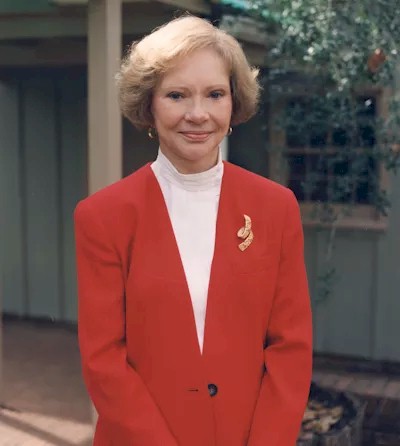 She was instrumental in helping establish the John and Betty Pope Fellowship in Caregiving. Pope Fellows are enrolled in the RCI's Caregiving Issues and Management Certificate program, designed to prepare participants for continued study in the caregiving field.
---