Dr. Edward F. Ansello
GRITS Hall of Fame Member
2014 Inductee
Dr. Edward Ansello is Director of the Virginia Center on Aging, and Director of the Virginia Geriatric Education Center, Virginia Commonwealth University in Richmond. He joined the Virginia Center on Aging in November 1989 after a 20-year career at the University of Maryland where he was a co-founder of the Maryland Center on Aging, serving as its Associate Director and Acting Director. He has been Coordinator of the Nursing Home Administrators 100-Hour Program for the State of Maryland, and Director of the Institute for Gerontological Practice at the University of Maryland. He was also Founding Chairman of the Maryland Consortium for Gerontology in Higher Education, the nation's first such statewide, incorporated affiliation.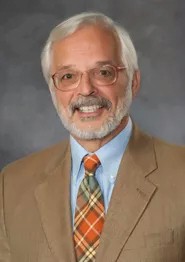 He is a native Bostonian and lifelong Red Sox and Patriots fan "through thick and thin." He received his undergraduate degrees in English and Philosophy at Boston College, both his M.Ed Educational/Counseling Psychology and, Ph.D. Education Psychology (Cognition and Aging) from the University of Missouri.
His work in the field of aging spans more than 35 year, focusing on issues of elder caregiving; pre-retirement education; disabilities and aging; coalition building; geropharmacy and the humanities, media, and aging. The author of a dozen books, monographs, special issues and book chapters, and four dozen published articles, he has made over 600 presentations before professional and civic groups nationally and internationally and directed some 20 federal, state, foundation, and other-funded grant projects. As director of Virginia Center at VCU, he has co-developed more than 20 plus projects that partner professionals from different disciplines and practices in addressing identified community needs.
He is also a Professor in the Department of Gerontology at Virginia Commonwealth University, and a Fellow of the Gerontological Society of America and a Charter Fellow of the Association for Gerontology in Higher Education (AGHE). In 1990 he was named Distinguished Academic Gerontologist by the Southern Gerontological Society. In 2001 he received the Distinguished Teacher Award from AGHE. In 2011 he received the Tibbitts Award, the highest recognition given by AGHE. He is Past President of both the Association for Gerontology in Higher Education and the Southern Gerontological Society. Dr. Ansello is being recognized for his leadership and commitment to SGS especially as the point person in site selection for SGS's annual meetings, along with his numerous contributions to the field of gerontology, professional training, and service to community.
---