SGS Advocacy in Aging Virtual Forum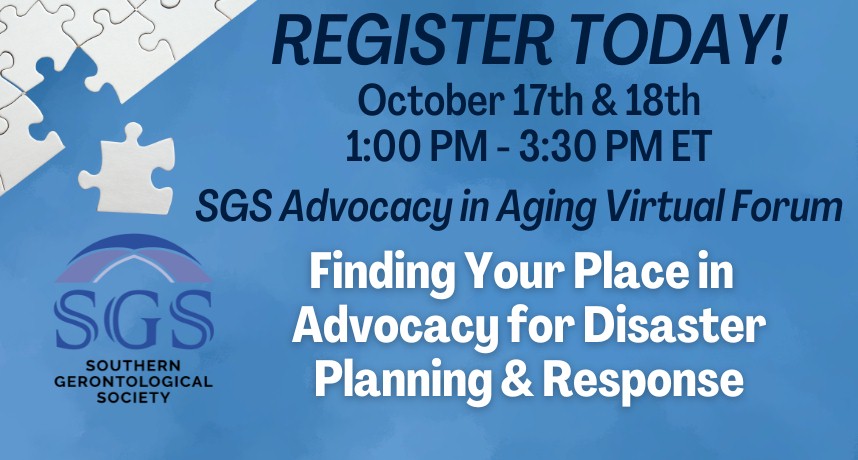 Check back soon for more information on speakers and registration.
Join us to Find Your Place in Advocating for Disaster Planning and Response for older adults. This two-day virtual forum will provide opportunities to explore challenges, highlight best practices, and discuss ways for attendees to become more involved in addressing disaster planning and response activities within their own organizations and communities. We'll hear from local, state, national and international voices on disaster response networks, best practices, key resources and training, and volunteer opportunities.
SGS Advocacy in Aging Virtual Forum
October 17 & 18, 2023
1:00–3:30 pm ET both days
FREE for SGS Members
$50.00 for Non-Members
Join SGS today! Click here for more info.
Sponsorship Opportunities
SGS invites you to join the virtual forum as an exhibitor. As a virtual exhibitor, your company name, address, phone number and website will be listed in the online forum program. On both days of the forum, slides with your company information will be displayed. There will also be social media shout-outs and recognition in the October and November SGS monthly e-blast. Cost is $100 to be a virtual exhibitor at this year's forum. Please reserve space by September 25, 2023. SGS will need your organization's information to display by September 29, 2023. Exhibitor information needs to be emailed to SGS in PowerPoint slide format. SGS will also need your website and a brief description of your organization.
Contact Amanda James at admin@southerngerontologicalsociety.org to reserve your spot today.
Archived Forums
Videos of The 2022 Forum Are Available
---